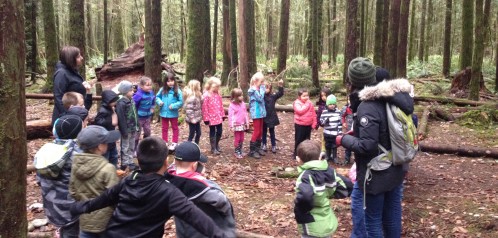 Cultus Lake Community School offers Nature Kindergarten for our youngest students. Our learning is based on students' interests and their wonders about the natural environment. Students spend time outdoors learning about BC's Kindergarten Curriculum, using nature and learning through play.
Our students are investigators, communicators and critical thinkers. We consistently go outside all year long in all types of weather (except extreme conditions). Students and their teachers spend each afternoon in the forest and park area next to Cultus Lake Community School. 
Benefits of Nature Kindergarten
Improved confidence, social skills, communication, motivation, and concentration.
Improved physical stamina, fine and gross motor skills.
Positive identity formation for individuals and communities.
Environmentally sustainable behaviours and ecological literacy.
Healthy and safe risk-taking.
Improved creativity and resilience.
Increased knowledge of environment, increased frequency of visiting nature within families.
Improved academic achievement and self-regulation.
Reduces stress and increased patience, self-discipline, capacity for attention, and recovery from mental fatigue
Appreciation of the natural environment and the connection to First Peoples and the land
Source: Forest Schools of Canada (2017)
Registration
Parents can register their child for our Nature Kindergarten Program online by clicking the link here. Then select Cultus Lake as your first choice of school. You will need to have you child's birth certificate and proof of residence to complete the application.  Feel free to contact our office if you have any questions or difficulties.